19. 11. 2012 | Rubriky: Articles,Live reviews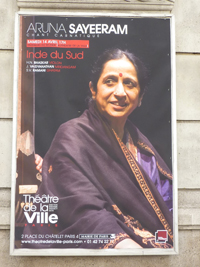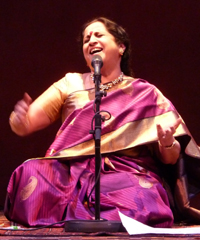 [by Ken Hunt, London] Imagine an ideal world in which no two concerts by a principal song-delivering vocalist were ever the same. That would mean repertoire, in fact an extraordinary breadth of song repertoire and, naturally, the interaction between composed and spontaneous composition – not just jamming or busking it.
And all that within a series of strictly demarcated rules of engagement. Delivering that would mean shooting the grammatical rapids of melody, rhythmicality and linguistics, too. (Grammatical in a music sense.) In essence, that was what Aruna Sairam did in Paris – a city she first appeared in, she advised, before an audience of something like 20 or so people in 1988, as she explained in a 'Meet the Artist' discussion organised by Les Ateliers du Monde the previous day.
Over three decades of reviewing Aruna Sairam's music initially on CD or later in concert, I have never encountered any vocalist to compare with her. For me, she reveals in extraordinary ways. Concert to concert, she negotiates the impossible, springing surprises. At the Théâtre de la Ville, approaching her 60th birthday, this most physical of singers did not so much sing as fly vocally with a repertoire that enabled her, albeit sitting cross-legged, to dance. To see is to believe.
In Paris she flitted between tradition and modernity, as, in my experience, like no other South Indian classical vocalist. She worked her way through a repertoire of Tamil, Sanskrit and Marathi songsmithery. Her closing tillana Kalinga Nartana by the 18th Century composer Ootukkadu Venkatasubba Iyer was as good as it gets in terms of melodicism twinned with rhythmicality. She sang of the Boy Krishna dancing the serpent-demon Kalinga – in this context an alternative to the more usual name, Kaliya – into submission.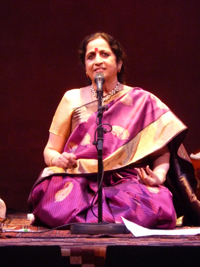 There have been three truly great deliverers of devotional song which I have had first-hand knowledge of. They were, in order of experience, Nusrat Fateh Ali Khan, Alim Qasimov and Aruna Sairam. Despite her appearance as the first entirely Carnatic billing in the BBC Proms' 116-year history in 2011, she remains the great unknown.
Still, if there is any justice, that won't be for long.
All photographs © Ken Hunt and Santosh Sidhu/Swing 51 Archives.
Note: the 'Sayeeram' on the poster is the French-language rendering of her family name.