18. 11. 2021 | Rubriky: Articles,Live reviews
[by Ken Hunt, London]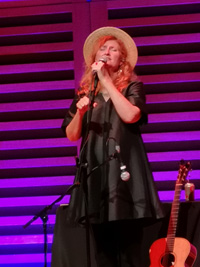 Even as she juggles an extensive repertoire and audience expectations, Eddi Reader is the sort of performer who gives one-off performances. The concert tour celebrated four decades as a professional musician. Reeling back the years the concert focused on her time as solo headliner and years as the lead vocalist in the successful Scottish group Fairground Attraction. (Even further back she sang for her supper singing with the Eurythmics (check out the YouTube footage singing 'Sweet Dreams (Are Made of This)' on Top of the Pops) with fellow Scot Annie Lennox) and as a session singers in the London studios. What she delivered at Kings Place was bespoke for the occasion and drew on an astoundingly diverse and impressive trove of material, traditional, original and covers.
She hit the London concert on her 40 Years Live tour wearing a silver-glitter Covid mask creation that would set any Frozen fan's heart aflutter. And then removed it, da-da-dah-dah-ing David Rose's 'The Stripper'. A fair proportion of the audience stayed masked. Her set had allusions harkening back to her London days. As she frequently does, she adjusted lyrics from the opening 'The Right Place' changed to the predictable improvisation "I'm in the Kings Place now." Throughout Reader sprinkled anecdotes and banter in her introductions and sometimes partway through the songs. She had not lost the knack. A notable stream of consciousness intro for, it turned out, 'Baby's Boat', began in her busking days in France with Mark Wright. She leapt forward to visiting him at Winchelsea on the East Sussex coast. A boatload of refugees landed on the beach and the authorities were there to 'receive' them. Families with small children and cuddly toys stepped onto dry land. The people in the shoreline pub they were in had an impromptu whip-round of twenty pound notes to buy them hot food – chips (pommes frites) and the like – and blankets.
That is my homeland, not the septic isle Britain's Home Secretary, the diehard Eurosceptic Priti Patel has championed – while conveniently ignoring how her expelled Ugandan-Gujarati family benefited from another kind of British attitude to refugees before she was born. Eddie Reader's preamble gave no clues that 'Baby's Boat' from her 2013 Vagabond album was coming. Even though, the connection with its introduction was tenuous, it didn't matter a jot.
Accentuating the one-off-ness of the concert, good-naturedly she poked fun the southern English accents on the 'Charlie Is My Dahling' chorusing. Totting the Fairground Attraction quota up afterwards – remember, Burns' 'Ae Fond Kiss' was anthologised in their bits and bobs collection of the same name before her 2013 career milestone Sings the Songs of Robert Burns – was a surprise. Her dad, a devotee of "St. Elvis of Presley" she quipped, had even done a mass when 'Perfect' reached the top of the charts. The concluding Maryhill tenement party routine of the evening – already there before lockdown – came with added zip because her sister Jean the younger was in the audience. Quite the little actress, Reader flicked imaginary Embassy Regal cigarette ash at a Maryhill tenement party, play-acting Jean the senior being coaxed to sing. Father Ted's Mrs Doyle's "Go on, go on, go on." left my lips. She ended perfectly with a make-believe party flow during which she sang 'Second-Hand Rose' and 'Moon River'. Reader's mezzo soprano range matched only, in my experience, that of the Czech singer Iva Bittová and Germany's Scarlett 'O (Seeboldt). She and her band flew.
Eddi Reader sang and delivered as if her entire life and art belonged on that Kings Place stage, not that she was back in it for the money. Seeing that joy from such an remarkable artist exceeded the inspirational. Seeing her pour her heart out on stage brought tears of happiness.
All photos © Santosh Dass/Swing 51 Archives
Further information: http://eddireader.co.uk/