14. 11. 2011 | Rubriky: Articles,Live reviews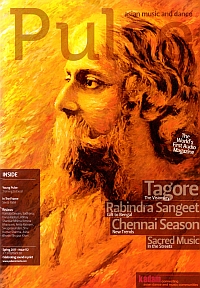 [by Ken Hunt, Prague] Rabindranath Tagore (1861-1941, Rabindranath Thákur for my Czech readers) was the all-original singer-songwriter – before the term existed – with the folk poetry touch, a poet-bard who in Scots would be called a makar. He had melody purloining skills to make Woody Guthrie blush. In an era of luxury liners and Pullman trains, he travelled probably about as widely as was possible in that pre-David Attenborough era. He set lyrics to ragas, traditional airs, Baul songs, Ganges boatmen's work songs and melodies, like Auld Lang Syne (!), heard on his travels. Where he differs from most song-makers is the enduring popularity, relevance and cultural penetration of his work. An unlettered field worker in Bangladesh and a Kolkata university professor are equally likely to have memorised his words.
Idris Rahman led the participants into the room with a slow processional version of Alo, amar alo, ogo/alo bhuban-bhara ('Light, light, light, oh light/That fills the world' in William Radice's translation) on, to go Indian, clarionet. Radice, a translator-poet who is to Tagore what Coleman Barks is to Rumi, recited from memory or read in English and Bengali while Mukal Ahmed and Munira Parvin concentrated on Tagore's Bengali originals. Clarinettist Idris and his sister, the pianist Zoe Rahman contributed both sparse accompaniments and extended musical interludes.
When Zoe Rahman took off after Radice and Parvin's conversational Mayurer Drishti ('In the Eyes of a Peacock'), it was clear that something other than pianistic improvising was going on. Without fanfare or announcement, they were sneaking in material from her almost completed Kindred Spirits album. It turned out to be the new composition Hridoy Amar Nache Re ('My heart dances, like a peacock, it dances'). You could read into the music what you liked, maybe coloured by the afterimages of the words you had just heard. The Betjeman-like train rhythms of Ishtesan ('Railway station') and technology versus natural world imagery of Pakshi-manab ('Flying man') were developed with, respectively, locomotive and station motifs and bird flight and song. Tagore's response to the Italian invasion of Abyssinia, manacles and slavers and the horrors of colonialism were sharp-focussed in Tagore's Africa piece. For it, the Rahmans chose Abdullah Ibrahim's Ishmael as their opening text before going into Tagore's Hridoy Amar Prokash Molo ('My heart…') with glancing allusions to one of his greatest hits, Akash Bhora Surjo Tara ('The sky is full of the sun and stars'). 150 years on from his birth, this evening magically confirmed and celebrated Tagore's continued relevance.
William Radice's and Ken Hunt's articles about Tagore appear in Pulse's Spring 2011 issue celebrating Tagore. More information at http://www.pulseconnects.com/
For more information about Zoe Rahman go to http://www.zoerahman.com/
For more about Tagore's Czech connections, I recommend time spent reading David Vaughan's piece here in print and/or listening to its audio file: http://www.radio.cz/en/section/books/rabindranath-tagore-an-indian-poet-who-inspired-a-czech-generation