14. 10. 2010 | Rubriky: Articles,Book reviews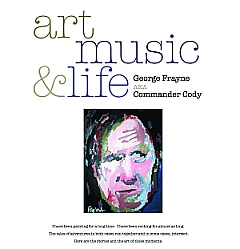 [by Ken Hunt, London] "The painting is from a 1984 album I did for Line Records in Germany called "Lose It Tonight". A song I performed – the first and only time I ever lip-synched a TV show – on Germany's #1 Pop music program of the 80's called "MusicLaden". It was great I met Pat Boone and showed him the way out." – George Frayne's lateral thoughts emanating from the Lose It Tonight cover.
Long before he grew pianistic wings with Commander Cody & His Lost Planet Airmen, George Frayne had what looked like a promising life ahead of him as a painter including, like Alton Kelley, a sideline in car art, sculptor and, heavens forbloodyfend (tmesis rears not only its ugly head but shows off its potty mouth), even a Teaching Fellow in Fine Art at the University of Michigan (1966-68). How he might have stuck and survived academe does not bear thinking about. Or, similarly, what he might have got stuck into, and welded onto academe. Musically speaking, things kicked off properly in the San Francisco Bay Area in 1969 but artistically for George Frayne it began in Michigan.
"I had never even seen a real mountain before my trip west, let alone a city built on one, San Francisco. The Berkeley Hills were larger than the biggest mound on Long Island." – George Frayne.
The overwhelming majority of people would have first encountered George Frayne during his first flush of musical success during his time with his band, Commander Cody & His Lost Planet Airmen. Their debut album had cover artwork by his brother, Chris Frayne and the band's newsletters and suchlike used his brother's art as an extension, manifestation or representation of the band's early image. Chris Frayne's cover art of the geezer with the gnashers for the group's debut album Lost In The Ozone (1971) now looks like a portent of the rabbit-botherin' baddie in Wallace & Gromit's The Curse of the Were-Rabbit (2005).
CC & His LPA played strange songs in standard country formats about life seen from the gutter angle of the great American country highway. They sang tales about getting wasted (Daddy's Drinking Up Our Christmas and (Down To) Seeds And Stems Again), the repercussions and consequences of driving on the 'wrong side' of the road (Hot Rod Lincoln and Mama Hated Diesels), the unadorned pleasures of music and life (Beat Me Daddy Eight To The Bar) and little white pills and driving (Looking at the World Through a Windshield). Rippling through their repertoire was a lavish portion of deadpan humour.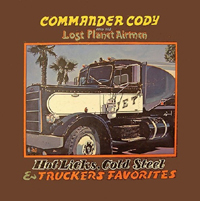 Though the text doesn't really bring it out properly, this book contains a fair few of his brother's images. It is an omission in the text that George Frayne doesn't write more about his brother or illuminate the way they and their joint interests cross-fertilised each other's imaginations. Examples from Art Music & Life make it plain that Chris Frayne's Jet Truck (1972) – the cover for the Airmen's second LP in 1973 Cold Steel, Hot Licks And Truckers' Favorites (the one with It Should've Been Me, Kevin Lookin' at the World Through a Windshield and 'Blackie' Farrell's Mama Hated Diesels on it) – is not so stylistically distant from brother George's T Bird (1973).
By the time the Good Commander and I first met – in November 1979 in London – he had revealed himself as a man well able to wield a paint brush. He had painted album covers and inevitably we talked about his painterly skills. I seem to remember him telling me about projecting images on canvasses or walls and reconfiguring them with paint, blocking colour and losing detail or tweaking the projected image. By the time of the second album (with Chris Frayne-painted rig straight out of Lowell George's song Willin'), it was already manifest that there was a family thing about machinery going on. Cars, planes and mechanical gubbins were in the family psyche. George, it turns out, had a really big thing about Hollywood, machinery and cars. (Art Music & Life includes an appendix of his cars and their fates.)
The next time we met he talked about a film for a song, an animated film for the next band on, the Commander Cody Band's song 2 Triple Cheese, Side Order of Fries. This was 1980, before MTV and promotional videos as standard. It sounded fascinating. George talked about an era of juke boxes in which the music had a musical short, too. Only in America could such foolish rumours circulate, comrade citizen. It turned out that he had not been speaking with a forked tongue or bullshittin' me, merelt shootin' the breeze. 2 Triple Cheese, Side Order of Fries wasa reality.
Yet, it's really only with Art Music & Life that Frayne's wide-eyed wonderment and grasp of visual Americana have properly come across. Images of Miss Reingold Beer 1951 – later the cover artwork of Drunks Dopers and Everyday Losers (2009) -, a Greyhound bus, Ming the Merciless, World War Two flying aces and aircrew, Jerry Garcia, Bill Graham, Louis Armstrong, Columbo (the TV detective series with Peter Falk in the starring role), Tony Bennett and Miles Davis bear witness to his artistic, graphic and musical fixations.
"The sculpture – Horsepower II – executed during the winter of 2007, is my most successful piece of art to date. It was painted on a white plastic life size male horse for the 'Horses Saratoga Style' event put on by the Saratoga Arts Council every five years." – Frayne
Mostly his sculptures in this book don't thrill me to the marrow. That's my problem. First, I am not one bit mechanistic. (Chrome Totem #2 (1966) "was sold to a Pratt and Whitney exec".) Second, sculpture is there to be touched or stroked and, if off-bounds, to be felt physically and walked around as much as security guards and electric fencing permit. There is one major exception to the sculpture business, not to the rules of vigilance. His witty painted sculptures Horsepower I (2002), with its bones, cogs and flywheels, and still more outré Horsepower II (2007) are straight out of the Cowparade ve zlaté praze/Cowparade in Golden Prague. Those painted cattle adorned Prague in 2004 and some are still there. (One is still on a spit if you look down from the right place from Prague Castle.) These painted beasts have become a separate artistic tradition in Europe raising funds for good causes. In a similar vein there have been painted bears in Berlin and decorated elephants in Antwerp and London.
This book is the other side of George Frayne's life and art, though. What should pique your interest here are the tales, many tall, that accompany the images. Plenty of the anecdotes are is music-related. But don't let that stop you. And, if this review is rather discursive, well, it's in the spirit of the Great Man and this book.
All quotes are courtesy of George Frayne and Q Book Press.
George Frayne AKA Commander Cody – Art Music & Life Q Book Press, ISBN 978-0-9842650-0-8 (2010)
www.qualibreinc.com
Further reading to look out for: Geoffrey Stokes – Starmaking Machinery – Inside The Business of Rock and Roll First Vintage, ISBN 0-394-72432-1 (1977, out of print)