10. 2. 2018 | Rubriky: Articles,Giant Donut Discs
[by Ken Hunt, London] This column brings together Najma Akhtar, Iva Bittová & Čikori, The Byrds, DAgADAnA, Dillard & Clark, Dick Gaughan, Rhiannon Giddens, Kaia Kater, Eddie Reader and Wilson & Swarbrick.
From February 2018 another source of information is https://twitter.com/KenHunt01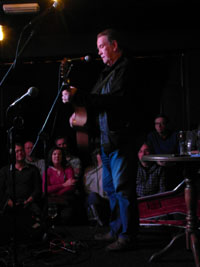 Both Sides The Tweed – Dick Gaugham
As somebody whose entire adult life has been lived as a bilingual European of unknown parentage, let alone bloodlines, I chose European as an identity. I believe the absolute folly of Brexit will haunt my grandchildren and their grandchildren. The only way to reform the European Union's many and various failings was to remain part of the European Union.
In January 2014 I talked to Dick Gaughan about Scotland's the proposed succession from the United Kingdom then in the offing. The referendum on Scottish independence took place that September and the vote was to remain. The River Tweed was the historic boundary between Scotland and England. A key sentiment in the song is "Let friendship and honour unite/And flourish on both sides of the Tweed".
He expounded on the subject for R2, "What I understand that song to be saying is pretty much in line with where Scots in general ;are at the moment that is, trying to combat this idea that somehow or another seeking independence for Scotland is an exception. Because it's not. It's far from it. Of course, the Brits have a vested interest in pushing the line that it's all anti-English. To be quite honest, it's crap. It's nothing to do with England, nothing at all: it's to do with the United Kingdom and Scotland's relationship with the rest of the United Kingdom.
"I think that 'Both Sides The Tweed' is in line with contemporary thinking within Scotland. Although it's 30-odd years since I resurrected it as a song, edited with my amendments to it, the reason I leapt on the song even back then was it was a counter to the racism I had felt on both sides of ;the border. I had experienced anti-Scots feeling in England and I'd experienced anti-English feeling in Scotland. I thought this is not the way. There is more to it than that. It is not about Scotland being anti-English or England being anti-Scottish.
"There is something much more fundamental than that which is a nation's self-sense of itself, how we view the rest of the world and how we relate to the rest of the world. That has to be free of prejudice. Otherwise why bother? If the only thing you've got in your favour is to be anti-something, then you've got nothing in your favour at all."
The EU referendum took place in the United Kingdom and Gibraltar in June 2016. Scotland voted to remain. It was something repeated over and over at the Rudolstadt Festival 2017, at which Scotland was the regional theme. I kept harkening back to Dick Gaughan at Tanz&FolkFest Rudolstadt. And recalled one year sitting outside the Hotel Adler on the market square (Am Markt) at a table with him, Ian Telfer and John Jones of the Oysterband, drinking a beer and shootin' the breeze. He recorded this song on his 1981 masterpiece Handful of Earth (Topic PSCD419) but the version I gravitate to is Gaughan's director solo live version from that festival's 1993 live album.
A note: At the Edinburgh Folk Festival in 1993 I was interviewing Archie, Cilla and Ray Fisher for a Sing Out! article. Gaughan was performing there with Clan Alba. At one point he took me aside and warned me about people hearing my accent if I went into some pubs in the city.
From Tanz & Folkfest Rudolstadt '93 (RUCD 93-1, 1993)
Through The Morning, Through The Night – Dillard & Clark
One day a very long time ago in Bethlehem – an old expression goes – I breezed into Collet's at its 70 New Oxford Street address. It was a folk record shop upstairs (and a jazz emporium in the cellar). On the ground floor behind the counter was a grizzled man who became a lifelong friend. His name was Hans Fried. It must have been 1968 because he played me the first album by Dillard & Clark called The Fantastic Expedition of Dillard & Clark. It had only just come out. Dillard & Clark were the early Byrd Gene Clark and the bluegrass banjo player Doug Dillard of the Dillards.
Through The Morning, Through The Night was the title song of their second LP which came out the next year. They shone and were gone. I met Clark in London – about year before his death. Backstage at Dingwalls in Camden Lock we talked about sitting down and scheduling an interview when he came back the following year. He died in May 1991 and Dillard in May 2012. I never met Dillard. Alison Krauss and Robert Plant covered Polly and Through the Morning, Through the Night on Raising Sand (2007). Both were fine interpretations. I don't think anybody ever bothered to capitalise on that windfall of interest with a proper reissue. Goodness knows, the A&M Mobile Fidelity edition missed many tricks. From The Fantastic Expedition Of Dillard & Clark/Through The Morning Through The Night (A&M Mobile Fidelity MFCD 791, [undated])
Saint Elizabeth – Kaia Kater
The Canadian singer and musician opened for Rhiannon Giddens on her Farewell Highway tour in Britain at the end of 2017. This was the concluding song of her set. It was a song so beguiling on first pass that she has me craning forward to make of sense of what it is about.
I like the rough edges of the recording. One day she is going to commit this marvellous song to a better recording. Get it now before in this version because rough edges often tend to be chamfered away. From Nine Pin (Mavens Music KKH19-11, 2016)
So You Want To Be A Rock 'N' Roll Star – The Byrds
Younger Than Yesterday was the Byrds' fourth LP album. It was released in 1967. Co-written by Jim McGuinn and Chris Hillman, the song gained traction as an American rock anthem. At this point they were Jim McGuinn on lead guitar and vocals, David Crosby on rhythm guitar and vocals, Chris Hillman on electric bass and vocals and Michael Clarke on drums.
While it's been said its musical main hook is McGuinn's 12-string Rickenbacker riff, for me two other elements which outshone anything else were Hillman's unrelenting bassline and session musician Hugh Masekela's soaring trumpet. Between electric bass and brass they keep the song's body and soul together.
The reason it came back to prey on my mind was the death of the South African trumpet and flugelhorn player, Hugh Masekela on 23 January 2018, coupled with a commission to write an obituary of him for February 2018. I started pulling out things from my library shelves.
So You Want To Be A Rock 'N' Roll Star is one of the Byrds' most anthologised, most heard songs. Logging in at under two minutes and ten seconds, it squashes in a lot about fame, whipped up fame at that cynicism. Apparently the screaming girls were recorded in Bournemouth on England's South Coast. No reason to throw that in, apart from it adding a spurious English element. From The Byrds (Columbia/Legacy 46773, 1990)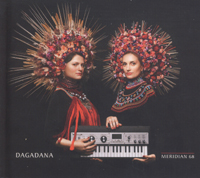 A w Tomu Sadu – DAgADAnA
Daga Gregorowicz (vocals, electronika) and Dana Vynnytska (vocals, piano) are a duo I first came across in 2016 when Meridian 68 first came out in Poland in 2016. The Jaro edition keeps the music but changes the packaging, dropping the Polish content of the booklet's text. Musically they blend Polish and Ukrainian cultural and mixed music elements often with a experimental daring unlike anyone else. Here they just sing. A w Tomu Sadu (In That Orchard) is a Slav, apparently specifically Ukrainian ritual song from Myropil in Romaniv Raion in Ukraine's Zhytomyr Oblast – oblast just means region or district but with a post-Soviet bureaucratic overlay. From Meridian 68 (Jaro 4339-2 [undated])
https://www.jaro.de/artists/dagadana/
The Love We Almost Had – Rhiannon Giddens
Writing about a song of Rhiannon Giddens for my next RPM column of political song in RnR, I allowed myself the indulgence of leaving Freedom Highway to continue playing. This song was a fixture in her Freedom Highway Tour that I had caught at Milton Keynes and reviewed for that same magazine. Why fight the inevitable? This is a touching tale worth telling.
"The way you almost held my hand, dear
The time you kissed my cheek
The words that never left your lips, love
But I heard week after week."
From Freedom Highway (Nonesuch 7559-79396-1, 2017)
PS At The Purchaser's Option is my RPM column's choice for March/April 2018. http://www.rock-n-reel.co.uk
https://www.youtube.com/watch?v=hpmE5m8AW6U
Black Is The Colour – Najma Akhtar
Najma Akhtar first entered my consciousness with the release of her astounding Qareeb in 1988. I reviewed it in Folk Roots and at its launch we spoke for the first time. A special friendship started that day. She later has performed, perhaps most famously, with Robert Plant and Jimmy Page on their 1994 album, No Quarter. She came to my 65th birthday bash with her mother who for the longest while I have cheekily called Oor Najma's Mum.
This track is from her impending Five Rivers. This traditional song – Black Is the Colour (of My True Love's Hair) – has by its very nature been around for a fair while. The litany of people who have recorded it is lengthy. Early American folkies such as John Jacob Niles and Burl Ives recorded it in the 1940s. Later it was sung by Pete Seeger, Joan Baez, Cara Dillon, Christy Moore and so on.
Najma Akhtar's original take on the song with a post-folk rock sensibility is provides food for thought. Her vocals are quite unlike any other version or interpretation I have ever heard. I shall be writing more about this project. She is back in form. From a "private sample" of Five Rivers (Promo 2018)
Jamie Come Try Me – Eddie Reader
For decades, January 25 has meant some musical input, cheer and reflection from Robert Burns. Jamie Come Try Me is definitely on the good cheer side of the fence and Eddie Reader's version here has long been the one of my absolute favourite interpretations. It is one of Burns' slyest pieces of mischief.
He takes the part of a woman angling for a man by the name of Jamie. Coquettish in an extreme in the original, Eddie Reader sings it like a dream. Perfect Burns Night fare. From The Songs of Robert Burns – Deluxe Edition (Rough Trade RTRADCDX097, 2008)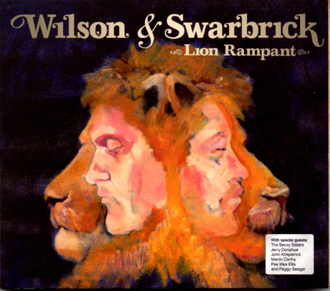 Red Rose Medley – Wilson & Swarbrick
This is another song that brings back memories of Dave Swarbrick and me laughing like drains. It was one of two tracks he played me in 2010 while we doing an interview at upstairs in his home in Coventry. (The other was Alistair Hulett's Among Proddy Dogs and Papes.)The interview's main focus was his wondrous raison d'être (2010). It had taken him from 2002 to 2010 to put together and the craft was astonishing. Even when he was promoting himself, he couldn't resist talking about his project with Jason Wilson.
This song combines Robert Burns and Bob Marley. As I write this on my 'to do' list is going to the Swarb! It Suits Him Well memorial gig at the Nettlebed Folk Club in Oxfordshire. From Lion Rampant (Shirty Records SHIRTY4, 2014)
PS I am now going to plug a website and internet resource I believe to be one of the finest on the planet in terms of covering folk music. Please, please check out Reinhard Zierke's Mainly Norfolk website. https://mainlynorfolk.info/swarb/records/lionrampant.html
A Paper Cone – Iva Bittová & Čikori
I don't write many lyrics but I wrote A Paper Cone (of Cherries). Writing song lyrics is like sending children out into the world and never knowing what they do or are up to. In June 2017 I finally got to see Iva Bittová & Čikori perform this song of ours in Castle Courtyard, Ethno Port Poznań in the Polish city of Poznań. Proud father. From At Home (Pavian, PM0100-2, 2016)
https://www.bittova.com/diskografie-zobraz.php?id=40
The copyright of all images lies with the respective photographers, companies and image-makers. The Dick Gaughan interview material and the Dick Gaughan from his Twickfolk gig at 9 November 2014 in Twickenham © Ken Hunt/Swing 51 Archives.