14. 3. 2015 | Rubriky: Articles,Live reviews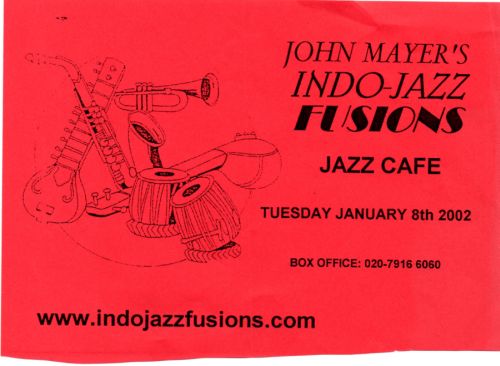 [by Ken Hunt, London] John Mayer's impact on hyphenated fusion exceeds calculability. Though the Jazz Café's 'Events Brochure' rebirthed him as Bombayite, Mayer is Calcutta-born. In the 1960s when he and the Jamaican-born saxophonist Joe Harriott combi-doubled their quintets, even more than Don Ellis, they were the defining ensemble shaking (up) the raag and jazz cocktail. Frankly, today's Indo-Jazz Fusions excels its Sixties namesake – undoubtably helped by today's availability of information but also because Harriott's ensemble probably never got raag. Chez Jazz Café, IJF numbered nine with Simon Colam (piano), Mayer (violin/tanpura), Dave Foster (basses), Andy Bratt (kit drums), James McDowall (flute), David Smith (trumpet/flugelhorn), Carlos Lopez-Real (saxes), Sandip Chakravarty (tabla) and Jonathan Mayer (sitar).
Then as now, most fusion forms in jazz or 'world music' were simply musicians having a blow and someone thinking up a spiritual-sounding or mellifluous-unpronounceable title. Indo-Jazz Fusions' approach, as now, was to launch from compositions. Mayer, a classically trained musician, slipped between the interstices of the Hindustani and western classical imaginations and their irreconcilable music business 'realities'. From the 1950s onwards, he meticulously logged his compositions, East-West or otherwise, through the medium of music publishing. Which is
why he can prove that so often he anticipated movements. This IJF incarnation likewise uses a sliding scale of Injun to jazz, as Khamaj, Mela, Jyoti and Indigo illustrated, and anyone could have found a place to board somewhere on its musical graph.
In four decades of journalism 'adorable' is a word I have never used. Why use it now? Mayer nurtures new talent in a way that is remarkable for someone of his seniority. As this gig showed, he is so encouraging and ego-free as to be adorable. At one point he halted a piece not because there was some chatter in the audience but, he announced, because they were chattering over one of Lopez-Real's compositions. At 71 Mayer is remarkable, relevant and rejuvenating. Qualify each with 'musically' and 'adorably'.
Note: John Mayer (1929/30-2004) died at the North Middlesex Hospital, Edmonton, London, on 10 March 2004. He died of injuries sustained in a road traffic accident crossing the main road near his home two days earlier. We were good friends.