20. 6. 2011 | Rubriky: Articles,Feature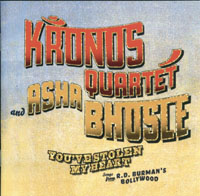 [by Ken Hunt, London] The Rahul Dev Burman story actually begins eight years before his birth on June 27, 1939, in Calcutta; new chapters continue to be added years after his death in Bombay on January 4, 1994. The Indian film business was revolutionized in 1931 by the arrival of the nation's first talkie, Alam Ara (Light of the World). This groundbreaking film was the first to use music to create an egalitarian lingua franca that united paying audiences in a nation divided by linguistic abundance.
Filmi sangeet – filmi for short, or "film song" – became became India's popular music. Burman was part of that first generation for whom silent films were only historical flickers. He grew up with filmi as the soundtrack to his life. Across India, film was the most popular form of mass entertainment, and Burman's exposure to "pictures" (as movies were known) and filmi began very early on. It helped his future composing career that he was born into a Bengali family with music in its bloodstream. The Bengali heartland is the modern-day Indian state of West Bengal and Bangladesh, and during his boyhood and adolescence he could not help but be acutely aware of Bengali culture's literary and musical pedigree.
R.D. Burman was the only child born to Sachin Dev and Meera Burman. His grandfather had been a classical vocalist specializing in dhrupad, a stately classical genre demanding slowly unfolding, spontaneous composition ruled by raga (as the subcontinent's sequences of notes are known). Spiritual in nature, dhrupad depends on allegory, multilayered symbolism, and poetic meaning. The surface meaning regularly hides deeper truths. It is not accidental that similar traits ripple through the lyrics that R.D. Burman set to music.
S.D. Burman (1906-1975) was part of the generation that took classical and folk elements into the brave new world of box-office gold. S.D. graduated from singer-actor to "music director" in Bombay, the city that during the war years of the 1940s became the Indian film industry's most money-spinning regional centre and the centre for Hindi-Urdu pictures. As R.D. Burman grew up, composers, musicians, actors, and artistic types of all sorts were in and out of the family home. On one occasion, the screen idol Ashok Kumar eavesdropped on the young man repeating "panchama" over and over to himself. Thus the fifth note of the Indian musical scale gave rise to R.D.'s lifelong nickname, Pancham. Both parents groomed Pancham for a musical life, though he also received a thorough grounding in raga and tala (rhythm cycle) from several prominent classical musicians, including sarod virtuoso Ali Akbar Khan.
All across the Indian subcontinent, that vast landmass that includes present-day India, Pakistan, Bangladesh, Nepal, and Sri Lanka, "music director" did not just mean "film composer" in the sense generally understood in the Western film industry. The profession was lumbered with a job description that exceeded anything found in any other film industry. It was an umbrella term for a package that could include composer, singer/musician, arranger, conductor, and session organizer. With his father's blessing, Pancham left school in 1955 before matriculating, already set on starting his apprenticeship as a music director.
R.D. Burman brought his own set of influences to composition. Unlike his father, Pancham's strong suits were never Bengali folk music or traditional Baul music. Sometimes he integrated Hindustani classical music, notably in the film Amar Prem (1971), but Pancham was better at allowing his ear to be grabbed by new sounds. He kept abreast of developments in popular music, not least of all because he was an avid record collector. His tastes ranged widely. He absorbed and assimilated elements from musicians like Stan Kenton, Quincy Jones, Sergio Mendez, and Santana.
Asha Bhosle, who was both his muse and his wife, recalls how in the studio Pancham intuitively knew when to stop rehearsing and go for the take. Recording sessions were highly pressurized affairs. It was not uncommon to rehearse, learn, and tweak an entire film soundtrack in the morning and have the whole session wrapped by the late afternoon or evening. Sought-after playback singers were known to do morning, afternoon, and evening sessions for three different films in three different studios in one day. These sessions were miracles of timing, organization, and budget restraints with musicians coming and going.
In this hectic environment Pancham created his innovative music for India's picture palaces. Yet the theatres in which his music would be heard did not have brand-new sound systems. Time and time again he had to achieve effects that had, in Western terms, the startling aural impact of Jimi Hendrix's stereo track-panning – only in mono, by thoroughly engaging his listeners' imaginations.
In an industry that breeds superlatives, Pancham was celebrated as the most ingenious music director of his generation, at a time when the genre seemed pretty much mined to exhaustion. Though Western film may only have achieved limited penetration across India, people who were vague about which one was Michael Caine and which one was Sean Connery recognized the musical James Bond references Pancham would slip in. Listening to Pancham's compositions gives only a hint of his voracious listening habits and ability to assimilate for Indian tastes.
Pancham also became enthused about original sound effects. Rather than resorting to the commonly used pre-recorded effects from commercial sound libraries, he experimented with his own recordings. For the original version of Ekta Deshlai Kathi Jwalao (Light a Match), for example, he did take after take of matches being struck until he got the sound that pleased his ear. In a non-verbal, non-musical way, that sound is a poignant reinforcement of the song's lyrical theme. Similarly, the percussive, one-note introduction to Chura Liya Hai Tum Ne (You've Stolen My Heart), the one that sounds like a glass being tapped, is just that; it is not a gratuitous effect. Once "picturized" – in Bollywood jargon in the Western-style cocktail party scene in Yaadon Ki Baraat (Memories of the Bridegroom's Procession, 1973), that clinking makes sense and adds to the dramatic narrative.
Towards the end of his life, Burman fell foul of his own success. Bollywood routinely employs copyists, and film-makers found sound-alike composers prepared to pastiche Burman's signature style at bargain rates. Nevertheless, he rallied with the gorgeously melodic songs for the award-winning blockbuster 1942: A Love Story (1994), even if its success proved posthumous. On his death in 1994 he left behind hours of unreleased music, compositional fragments, and works-in-progress. Since his death, the clamour for his work has not diminished. Arguably he is now reaching a greater audience than in his lifetime. Technology is playing a part in that: websites, fan clubs, remixes, and karaoke recordings are all spreading his music. Through his music, with all its extraordinary vigour and inventiveness, he continues to be a part of youth culture in ways he would have chortled over.
This section constitutes the opening section of the booklet notes to You've Stolen my Heart – Songs from R.D. Burman's Bollywood Nonesuch 7559-79856-2, 2005. You know what it's like? You keep finding rotters have uploaded your writings without ever seeking permission. And you get to thinking…
Further reading: Anirudha Bhattacharjee & Balaji Vittal's R.D. Burman – The Man, The Music (HarperCollins (India), 2011)