31. 10. 2015 | Rubriky: Articles,Lives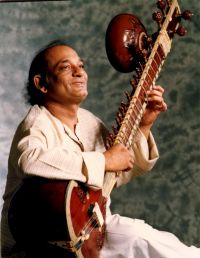 [by Ken Hunt, London] In 1955 North America's modern-era fascination with Hindustani music began with the advent of jet travel and the arrival of the sarod maestro Ali Akbar Khan in New York. By then, Shamin Ahmed Khan, born in Baroda, Baroda State (modern-day Gujarat) on 10 September 1938, had already met the musician who would transform his life.
In 1951 he met Ali Akbar Khan's brother-in-law, Ravi Shankar. Shamim Ahmed belonged to a family of hereditary musicians of the Agra Gharana. A gharana is a school and style of Hindustani classical music historically rooted in a specific place – Agra is in modern-day India's northern state of Uttar Pradesh. A boyhood bout of typhoid destroyed his singing range. He switched to sitar.
In December 1955 he met Shankar again in Delhi while attending an All India Radio music competition. Shankar was the Music Director of AIR's Vadya Vrind Chamber Orchestra and invited Shamim Ahmed and his father, the classical vocalist Ghulam Rasool Khan to his Delhi residence. The 17-year-old's playing impressed him so much that that month they formally 'tied the thread' – ganda bandan – that symbolically connected them as guru and shishya (disciple-pupil).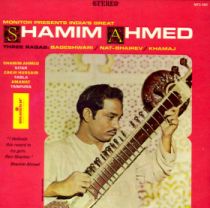 As one of Shankar's first shishyas, he 'commuted' the 1000 km between Baroda and his guru's home. When he moved to Bombay in 1960, Shamim Ahmed relocated to fill a teaching position at Shankar's Kinnara School of Music. In 1968 Shankar invited him to California to be one of the young lions on what became immortalized as Ravi Shankar's Festival From India (World Pacific, 1968; BGO Records [reissue], 1996) – the sitar and sarod duet on rāg Kirwani with Ali Akbar Khan's eldest son, Aashish Khan is one of the double-LP's highlights.
The same period saw him guest on the Indo-jazz fusion project Rich á la Rakha (World Pacific, 1968; BGO Records [reissue], 2001), fronted by Shankar's tabla virtuoso Alla Rakha and the US jazz drummer Buddy Rich. He also recorded his US solo debut Monitor Presents India's Great Shamim Khan: Three Ragas (Monitor, undated; Smithsonian Folkways Archival, 2007) with the student prince of tabla Zakir Hussain accompanying.
As a senior Shankar shishya, he graced the triple-CD ShankaRagamala – A Celebration of the Maestro's Music by his Disciples (Music Today, 2005) superbly interpreting his guru's raga composition Janasanmodini. That December 1955 ceremony in Delhi created a life-long, mutual commitment and steered a superlative, sweet-voiced sitarist's seven-decade career in music. He died in Mumbai, Maharashtra on 14 February 2012.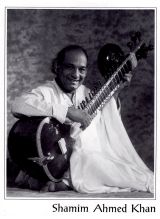 Shamim Ahmed Khan holds a special place in my heart. I took my young son Tom to one of his recitals, organised by the promoter Jay Viswa-Deva. Afterwards Shamim and I talked at length and he entreated me to pass my opinion of his performance to his guru. The recital was memorable for another reason. Tom and I fell into conversation with a charming woman. She was friendly and so attentive when it came to my lad. When I got home I related what had happened to my wife, Dagmar. The kind woman was the actress Vanessa Redgrave. Tom was aged under ten and had no idea who was talking to him so attentively.
Ken Hunt's obituary of Shamim Ahmed Khan appeared in The Independent of Tuesday 6 March 2012.
All images are courtesy of Swing 51 Archives.