7. 8. 2018 | Rubriky: Articles,CD reviews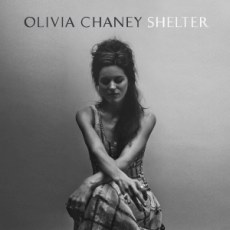 [by Ken Hunt, London] Much of Shelter was composed, if not conceived, in the relative seclusion of a cottage on the North Yorkshire Moors. Its accent is on self-written songs. Like the songs here, the artwork photos capture rural English scenes, Roman antiquities – as if reflecting her Florence (Firenze) birthplace (and the song Roman Holiday) – and, as with the visual backdrop to A Tree Grows In Brooklyn, a smidgeon of citified ways. Conjuring a sense of solitude and her classical music training, the seventh track is an adaptation of the English composer Henry Purcell's O Solitude to her plain-speaking guitar and Jordan Hunt's violin accompaniment. Tapping into another sort of (defiant) loneliness, the Everly Brothers' Long Time Gone ("…when I leave, I'll be a long time gone…") is emboldened with melodic embellishments.
Shelter is a collection of emotionally intelligent songs in which half-rhyme and no rhyme tussle like princes vying for the free-verse crown. There are flashes of the melodicism and verbal dexterity of Joni Mitchell ('Never been a puritan/Never liked their wine much'), Judee Sill (without the darkness) and even a twinkle of Kate & Anna McGarrigle (on Roman Holiday).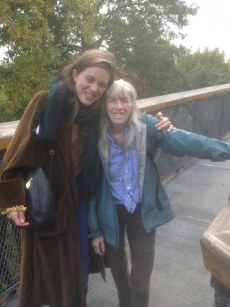 O Solitude, My Sweetest Choice! is particularly choice. Hers is Purcell's setting of Katherine Philips' translation of Antoine Girard de Saint-Amant's La Solitude – both were dead before Purcell reached six years of age. . (The first time I saw her sing, as part of Explorations: The Sound of Nonesuch Records – Session Four at London's Guildhall School of Music & Drama in May 2014 – a precursor to the Kronos Quartet's Folk Songs project, she included There's Not A Swain in Purcell's setting of John Fletcher's words.)
Shelter, though, is hers and hers alone. Olivia Chaney's making hay and the sun's going to shine a long, long time.
Olivia Chaney Shelter Nonesuch Records
www.nonesuch.com
www.oliviachaney.com
The image of Olivia Chaney and Annie Briggs is © Ken Hunt/Swing 51 Archives. On 11 October 2017 I introduced Olivia to Annie for a truly memorable day. We walked and talked at Kew Gardens until the light and wine ran out.