30. 5. 2011 | Rubriky: Articles,CD reviews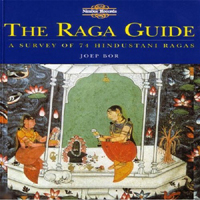 [by Ken Hunt, London] When Joep Bor of the Rotterdam Conservatorium first conceived of a project that would take a selection of those "complex and abstract musical entities" known as ragas and present them in an accessible form, he had no idea how many years would flash by. By 1990 Bor was in partnership with the Monmouth, Welsh Border-based Nimbus label. What was little more than a pipe dream in 1984 eventually became The Raga Guide, a 4-CD, 196-page package, the product of a collaboration between traditional Indian musicians, the Rotterdam Conservatorium and Nimbus Records. It was launched at the High Commission of India's Nehru Centre in London in April 2001.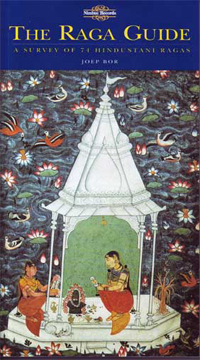 Over that period team coalesced. Hariprasad Chaurasia, Buddhadev DasGupta, Shruti Sadolikar-Kalkar and Vidyadhar Vyas were the principal musicians, providing instrumental and vocal portraits of particular ragas – the full list is given below. The shapes in the smoke slowly took on tangible form and substance. But one of the major breakthroughs was the inclusion of song texts, where appropriate, provided in Devanāgarī script with English translations (although no transliterations for steering purposes).
At the turn of the century the Indian musicologist V.N. Bhatkhande (1860-1936) compiled a standard work on Hindustani, that is, Northern Indian ragas. Much has been published since but his raga manual remains an essential textbook. However, raga is, as Bor eloquently describes it, "a dynamic concept". In subsequent books, one component was usually absent – the sound portrait. Add sound and microscopic detail, tone and expressiveness come alive. A unifying concept behind this raga manual for the next millennium became, as Robin Broadbank of Nimbus put it, to present "raga music from a performer's perspective."
Presenting each raga in a form that could be assimilated had been an early decision. As far back as 1984 Dilip Chanda Vedi had worked on brief raga outlines capturing the soul of the raga. The four musicians who finally accepted the mission impossible took over his work on his death. The first musician to begin recording these six-minute maximum raga sketches was the vocalist Shruti Sadolikar-Kalkar in 1991. The sarodist Buddhadev DasGupta, the flautist Hariprasad Chaurasia and the male vocalist Vidyadhar Vyas completed the line-up. One thing had been clear from the very beginning. This was to be a guide to Hindustani ragas, not a guide to Hindustani music making. Therefore, although instruments such as tabla and sarangi (a stringed instrument often used to shadow and accentuate a vocal line) feature in an accompanying guise, there is no attempt to have, say, sarangi, sitar or shehnai (a double-reeded, shawm-like instrument) as principal instruments.
"You have to make a choice," Bor explained to me at the time of its launch. "You have to have very good musicians. I would have loved to have sarangi. I asked Ram Narayan, my teacher, but he just didn't want to do it. At the end of the day the instruments are not that relevant. It's the rāgs, it's the interpretation of the rāgs which give a clear picture."
This is an investment for every raga collection. Indispensible. If you see it, grab it.
The Raga Guide, Nimbus Nimbus NI 5536/9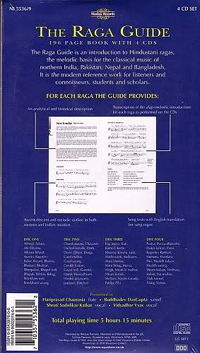 Disc One
1. Abhogi (Hariprasad Chaurasia)
2. Adana (Buddhadev DasGupta)
3. Ahir bhairav (Buddhadev DasGupta)
4. Alhaiya bilaval (Shruti Sadolikar-Katkar)
5. Asavari (Hariprasad Chaurasia)
6. Bageshri (Buddhadev DasGupta)
7. Bahar (Buddhadev DasGupta)
8. Basant (Hariprasad Chaurasia)
9. Bhairav (Hariprasad Chaurasia)
10. Bhairavi (Hariprasad Chaurasia)
11. Bhatiyar (Shruti Sadolikar-Katkar)
12. Bhimpalasi (Shruti Sadolikar-Katkar)
13. Bhupal todi (Hariprasad Chaurasia)
14. Bhupali (Hariprasad Chaurasia)
15. Bibhas (Vidyadhar Vyas)
16. Bihag (Buddhadev DasGupta)
17. Bilaskhani todi (Hariprasad Chaurasia)
18. Brindabani sarang (Buddhadev DasGupta)
Disc Two
1. Chandrakauns (Vidyadhar Vyas)
2. Chayanat (Buddhadev DasGupta)
3. Darbari kanada (Buddhadev DasGupta)
4. Desh (Hariprasad Chaurasia)
5. Deshi (Shruti Sadolikar-Katkar)
6. Dhani (Shruti Sadolikar-Katkar)
7. Durga (Shruti Sadolikar-Katkar)
8. Gaud malhar (Buddhadev DasGupta)
9. Gaud sarang (Shruti Sadolikar-Katkar)
10. Gorakh kalyan (Vidyadhar Vyas)
11. Gujari todi (Shruti Sadolikar-Katkar)
12. Gunakri (Vidyadhar Vyas)
13. Hamir (Buddhadev DasGupta)
14. Hansadhvani (Vidyadhar Vyas)
15. Hindol (Vidyadhar Vyas)
16. Jaijaivanti (Buddhadev DasGupta)
17. Jaunpuri (Buddhadev DasGupta)
18. Jhinjhoti (Buddhadev DasGupta)
Disc Three
1. Jog (Buddhadev DasGupta)
2. Jogiya (Hariprasad Chaurasia)
3. Kafi (Hariprasad Chaurasia)
4. Kamod (Buddhadev DasGupta)
5. Kedar (Buddhadev DasGupta)
6. Khamaj (Buddhadev DasGupta)
7. Kirvani (Hariprasad Chaurasia)
8. Lalit (Hariprasad Chaurasia)
9. Madhuvanti (Shruti Sadolikar-Katkar)
10. Malkauns (Hariprasad Chaurasia)
11. Manj khamaj (Hariprasad Chaurasia)
12. Maru bihag (Shruti Sadolikar-Katkar)
13. Marva (Vidyadhar Vyas)
14. Megh (Vidyadhar Vyas)
15. Miyan ki malhar (Vidyadhar Vyas)
16. Miyan ki todi (Vidyadhar Vyas)
17. Multani (Shruti Sadolikar-Katkar)
18. Nayaki kanada (Shruti Sadolikar-Katkar)
19. Patdip (Shruti Sadolikar-Katkar)
20. Pilu (Hariprasad Chaurasia)
Disc Four
1. Puriya (Vidyadhar Vyas)
2. Puriya dhanashri (Hariprasad Chaurasia)
3. Puriya kalyan (Hariprasad Chaurasia)
4. Purvi (Vidyadhar Vyas)
5. Rageshri (Buddhadev DasGupta)
6. Ramkali (Shruti Sadolikar-Katkar)
7. Shahana (Buddhadev DasGupta)
8. Shankara (Vidyadhar Vyas)
9. Shri (Vidyadhar Vyas)
10. Shuddh kalyan (Buddhadev DasGupta)
11. Shuddh sarang (Shruti Sadolikar-Katkar)
12. Shyam kalyan (Buddhadev DasGupta)
13. Sindhura (Buddhadev DasGupta)
14. Sohini (Vidyadhar Vyas)
15. Sur malhar (Buddhadev DasGupta)
16. Tilak kamod (Shruti Sadolikar-Katkar)
17. Tilang (Shruti Sadolikar-Katkar)
18. Yaman (Shruti Sadolikar-Katkar)