24. 10. 2021 | Rubriky: Articles,Live reviews
[by Ken Hunt, London]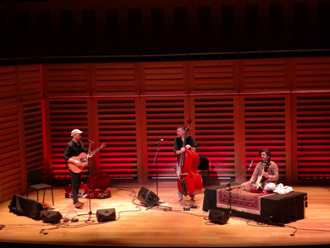 What was the last live gig you saw before Covid-19 brought live music in front of audiences juddering to a standstill?
Mine was Yorkston Thorne Khan's London concert on 11 March 2020. It was the start of their tour promoting their third album, Navarasa: Nine Emotions. YTK are James Yorkston on nyckelharpa (Swedish keyed fiddle), 6-string guitar and vocals, Jon Thorne on double-bass, 6-string guitar and vocals, and Suhail Yusuf Khan on sarangi and vocals.
Watching how they have developed their unique blend of north-western Indian and Anglo-Scottish literary and musical traditions, with a strong jazz bass underpinning, has proved delightful. They appeared on the bill on the Rudolstadt Festival in 2017 confirmed how promising they were. Seeing the stream of new, original material develop since then has been revelatory. Here the Scots traditional ballad 'Twa ('two') Brothers' and Robert Burns' 'Westlin Winds' were exceptional examples of how to blend, respectively, the Anglo-Scottish ballad tradition and bols (Hindustani rhythm syllables), and Sufi poetry and Burns.
One of the great things about YTK has been seeing repertoire items sown, grown, blossoming and coming to fruition live – and how the concert versions of what they play eclipse studio versions. Their London concert reinforced that many times over. Plus there were the spoken drolleries (Yorkston: "Most people think of me as only a clothes horse" and the like). And the profundities, typified by their 2015 collaborative debut Everything Sacred's 'Broken Wave (A Blues For Doogie)' and its 'And I am sleepless/And terrified.' which has swelled in resonance and stature.
Post-Covid hindsight screams about the injustice of YTK not really having the chance to have gone out and properly promoted Navarasa: Nine Emotions. Kings Place proved to one of the few and last concerts on their truncated tour. Afterwards, we spoke to them and I talked about having returned from Zürich days before and having read with growing alarm about how day to day the Swiss-German broadsheets had been plotting the spread of Covid from canton to canton. It now feels like an interlude of lightheartedness before something terrible like a war descends.
Postscript
Afterwards Suhail Yusuf Khan spent time in Britain. He interviewed me about Hindustani music. That was an unusual inversion.
All images © Ken Hunt/Swing 51 Archives
Further information: https://www.yorkstonthornekhan.com/