31. 12. 2008 | Rubriky: Articles,Interviews
How New York City was seized by the East European invasion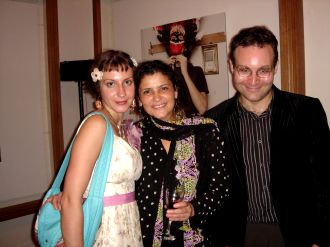 [by Petr Dorůžka, Prague] New York is a cosmopolitan city with very rich musical landscape. Do you think there is something special the Russian, East European, or Slavic musicians living in New York can offer that musicians from elsewhere lack?
Absolutely. In the folk scene, New York arguably has amongst its citizens the best Slavic/Balkan/Russian musicians that I've ever met. Not only are they strong as performers, they are incredibly open as musicians, adapting the Western musical styles in much more genuine and honest ways than happens in the East. There's a great symbiotic relationship that happens all the time – the American players learn from the Eastern, and vice versa. We all go to each other's performances, learn the tunes, and sometimes play in each other's bands, feeding off each other like vampires. It's a small world.
In larger context, the most spiritual contemporary music comes from the former Soviet territory, like Arvo Pärt, Giya Kancheli, Sofia Gubaidulina, do you feel related to these artists?

There's a hushed silence in Pärt and Kancheli's works, which I greatly appreciate and relate to. (I haven't listened to enough of Gubaidulina's works to comment, alas!) Silence is harder to come by in American works, perhaps. Aside from silence, I'd say that our language and background is quite different – Pärt and Kancheli's being more inspired by religious and classical music, mine being more inspired by jazz + folk. For me, even the slow, nostalgic moments are always in a dance.
You also worked with Petr Kotik, how was it playing together?

I have been performing as violist with Petr Kotik's "Orchestra of the S.E.M. Ensemble" for approximately 12 years, from my first years as a student at Juilliard. Some of this work has also lead to touring with the baritone Thomas Buckner.
It is always a thrill to work with Petr Kotik. Despite the cold, barren feel his music may emanate on first listen, his in-person energy is truly whacky and childlike, his music always spiritual and unpredictable.
You've also worked with another Czech born musician living in New York City, the singer Marta Töpferová, how did that happen?
It was meant to be. I met Marta the same evening I met Lucia Pulido, approximately 8 years ago. While on my way home from a John Zorn improv jam at Tonic, I looked into the Living Room Café, to see who was playing that night. On stage were Lucia Pulido, Marta, and Satoshi Takeishi, performing incredibly complex music from Colombia. I was instantly in love with the whole group, and kept in touch. Over the next few years, I occasionally sat in with Marta's (now-defunct) group, the Acustilocos, and recorded tracks for an album with her band mate, Angus Martin. When Marta asked me to record on her album, I was excited to my ears. I'm thrilled with the way the track turned out.
Yet there is another side to the NYC East European heritage, the gypsy-punk of Eugene Hütz, does this kind of music have any value for you?

I love Eugene, his depth and energy, and have played many gigs with Sergey [Ryabtsev, their violinist] and Yura [Lemeshev, the accordionist] over the years. I love their Gypsy quality, but am not a big fan of Punk – my childhood was an overwhelmingly happy one, and I rebelled through free improvisation. As such, I admire their great success from the side, and hope that one day my music will also reach this kind of frenetic boiling point – but on its own terms.
You are a classically trained musician who spent his formative years playing 20th century music. How easy or difficult is it to switch to the warm spectrum of roots styles as you do on the album Mnemosyne you recorded with Kontraband?
Actually, I don't really consider it to be a switch at all, and I have little to no consciousness whatsoever of changing styles, roots or otherwise. When we play with the Kontraband, we reflect on our experiences of playing in more "rootsy" ensembles over the years, but we do not aim to intimate (or imitate) any particular style except our own. Maybe after the recording is complete, I can recognize in hindsight that this or that solo is more reflective of this or that style, but during the moment of performance, there is no such thought.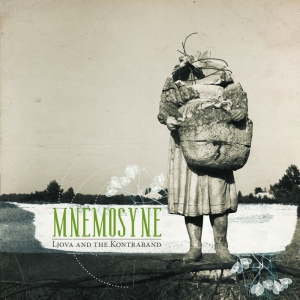 The album's cover features a photo of a headless concrete statue, probably built during the Stalin era and partly destroyed later. While the man built monuments decay, the trees in the skyline flourish. But, what is the real story behind the picture?
As you know from the press release and elsewhere, the title of the album is Mnemosyne, which is the title of Stickney's poem, and in Greek is the name for the Goddess of memory. For the CD cover, I spent some time looking at paintings and photographs of women, and other things which could conjure up an image of Mnemosyne. Memory is often unjustly wicked, and sometimes wrong. When, at long last, I found Rena's photograph, I was struck by the beauty and the serenity of the scene, as well as by how and where the statue was broken. It looked like Mnemosyne was shot in the face, but still standing proudly…
As a parallel to this, I included another possible portrait of Mnemosyne, also by Rena, looking at herself ghost in the mirror, inside the CD booklet.
Koyl, one of the songs from the album, comes originally from the collection of Moshe Beregovski, an Ukraininan-Jewish ethnomusicologist, who spent part of his life in Gulag. How did his collection survive the Stalin era?
Unfortunately, I do not know off hand… but according to a YIVO institute newsletter from 2002: "Beregovski [1892-1961] served as head of the Department of Musical Folklore of the Institute for Jewish Culture at Kiev where he amassed a vast archive of recorded folk, instrumental and Hasidic music. Under the then-Soviet policy of anti-Semitism and eradication of Jewish culture, Beregovski was arrested in 1950 and deported to a labor camp in Siberia, where he was confined for seven years. Upon his release, he prepared a volume featuring parts of his collections, which appeared posthumously in 1962." It is a wonderful collection, my wife and I often get inspired by reading and singing its many magical tunes.
What is your personal story?
I was born in Moscow in 1978, and moved to New York with my parents when I was 11. My father, Alexander Zhurbin, is Russia's foremost composer of works for musical theatre, though he has also written several operas, symphonies, concerti, as well as over 60 film scores and hundreds of songs across many genres. He studied with Shostakovich and Khachaturian at the St. Petersburg Conservatory. In 1975, he wrote the first Russian rock-opera, Orpheus & Eurydice, which sold millions of records and continues to play in the same theatre in St. Petersburg to this day. Presently, most of my father's musicals are in the repertoire of theatres across the country. Amongst his latest works is an opera based on Shakespeare's King Lear (called Liromania).
My mother, Irena Ginzburg, is a poet, writer, and translator. Her father (my grandfather), Lev Ginzburg, translated many centuries of German poetry into Russian, and wrote books on contemporary German history. My mother continued his mission by introducing many Germany Women Poets to Russian readers, poets such as Annette von Droste-Hülshoff and Ingeborg Bachmann.
When we moved to New York, my father became the Composer-in-Residence at the 92nd Street Y [ed: 92nd Street Young Men's and Young Women's Hebrew Association]. Soon after, he founded the Russian-American Musical Theatre, and later, the New York Festival of Russian Films.
After 11 years in New York, my parents returned to Moscow, and live most of the year there. In addition to endless stream of commissions to write music for all mediums, my father is now the host of two TV programs and a radio show. He's also published three books of articles, thoughts, and recollections. My mother has recently published an acclaimed book of memoirs about growing up in Moscow, and is working on her second.
My parents have always been their best and worst collaborators, writing and performing songs together. At last, they are finally recording an album.
How did the family influence you?
Growing up in a household where both parents are highly intellectual and artistic, we've always had plenty of music, words, and important people floating in and out of the house. I didn't meet many doctors or lawyers when I was growing up, so that was never on my mind as a profession (until it was too late, that is). I had access to an endless wall of books, closets full of hard-to-get recordings. When we moved to New York, I "lived" part-time at the Library of the Performing Arts in Lincoln Center, digging up modern curiosities.
I grew up with an interesting contrast: whereas my father is completely open in terms of genre and style, my mother always keeps to a highly personal range of material, about which she's very passionate. In my own work, I try to be both – open to outside ideas, but mostly using them to reflect my own light.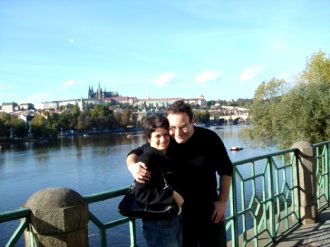 My wife, Inna Barmash, is another contrast – she is an incredible folk singer, born into a family of engineers. As enigmatic as she is pragmatic, she will begin working as an attorney at a big corporate law firm this October. Like my parents before us, we are also writing songs together, and will record them with my ensemble, Ljova and the Vjola Contraband, later this year [2008].
How are you involved with Yo-Yo Ma and the Silk Road project?

I began arranging for Yo-Yo Ma and the Silk Road Ensemble several years ago, at the recommendation of my cousin, Jonathan Gandelsman (a violinist with the ensemble), and the composer Osvaldo Golijov. I have also performed with the ensemble at Carnegie Hall, and recorded on their Silk Road Journeys: Beyond the Horizon CD for Sony Classical. At first, they had asked me to arrange a set of Roma pieces from the repertoires of Taraf de Haiidouks, and also from the soundtrack to Tony Gatlif's film Latcho Drom. Several months later, I was asked to arrange Azeri, Chinese, Indian, Iranian and Moldavian music for the ensemble's performances, as well as for the soundtrack to the Japanese NHK-TV network's documentary series, The Silk Road. Most recently, I have collaborated with the great Iranian kemanche master, Kayhan Kalhor, on his composition The Silent City, and with the brilliant Chinese pipa performer Wu Man, on her Red, Blue and Green suite. Working with the Ensemble is a lot like flying – I have my complete discretion as to the artistic direction of the arrangements, and they generally love whatever I do. Yo-Yo Ma is without a doubt one the most open-minded and nurturing musicians in the world. I hope they will come to play in Prague soon.
Did you work on arrangements for Kronos, and which?

My relationship with Kronos is a bit different, in that their preference now is to have exact transcriptions of the source material, and then to arrange it themselves. As part of this, I've transcribed quite a list of music from different countries, including Iraq, Iran, Sweden, as well as several tracks for their release with Asha Bhosle, You've Stolen My Heart: Songs from R.D. Burman's Bollywood, collaborations with Matmos, and Clint Mansell's score to Darren Aronofsky's "The Fountain", featuring Kronos and Mogwai. On commission from the Los Angeles Philharmonic, I also worked with Kronos on a concert with the Moroccan Cantor Emil Zrihan, fleshing out arrangements for Kronos and Emil's ensemble.
Also you thank indirectly Lucia Pulido, and Asha Bhosle, could you please explain why?

Both of these voices have been incredibly inspiring in developing my tone, my music, and my personality. I'm hopeful you can hear this on the album's performances (Lucia's influence on Middle Village, and Asha's on Crosstown).
Several years ago, while working on the Kronos & Asha Bhosle album, I had a chance to speak with Asha & David Harrington (Kronos's first violinist and founder) on the phone. I was sitting in a Bangladeshi café in Tribeca, in between watching films at the Tribeca Film Festival. Asha's voice was being heard in the café's CD player, and also in my phone. Short of my mother's, it was arguably the sweetest voice I've ever heard.
You mention collaboration with the Iranian master musician and composer Kayhan Kalhor. As his instrument is kemenche, was the notation somehow respecting its wider timbre range, compared to Western violin?
Over the past few years, most of my arranging work has revolved around composers from different cultures and traditions than my own. I've arranged music from China, India, Iran, Iraq, Sweden, Tanzania… But my approach to these arrangements is essentially similar — first and foremost, I take stock of any technical considerations/limitations, and then think of the best way to express myself in the work. I try to re-interpret the original work as much as possible, and make something of my own. If I steer to close to the original, I feel that I'm cheating the listener from having a fresh, personal perspective.
In The Silent City specifically, I arranged only the latter half of the composition, from a single-line sketch by Kayhan Kalhor. Kayhan guided me simply by allowing the greatest freedom, and requesting that I be as dissonant as I wanted to. I went with my instincts, much like the composition itself, never looked back.