15. 8. 2008 | Rubriky: Articles,Lives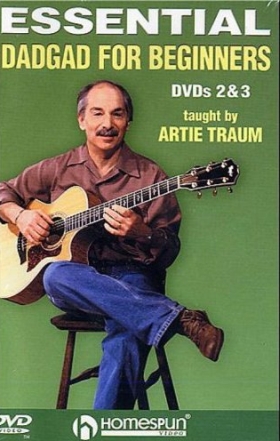 [by Ken Hunt, London] At the beginning of the 1960s a new kind of folk scene started to develop in the USA. Overall, the scene consisted very much of localised affairs. In Colorado, Boulder was separate from Denver. The US East Coast scene, notably based around Boston and Cambridge in Massachusetts and New York operated independently of each other. Gradually they made contacts and connections. The dots joined up. Some New York musicians such as David Grisman and Jody Stecher relocated to California, for example. Artie Traum was part of the New York scene but by the late 1960s he was part of the bigger picture.
Guitarist, singer-songwriter and composer Arthur Roy Traum was born in New York City on 3 April 1943, younger brother to Happy Traum by five years. Early on, he accompanied the white blues singer Judy Roderick. He made his first recording with the True Endeavor Jug Band – The Art of the Jug Band (Prestige, 1963) – at the beginning of the 1960s. Nevertheless, he made much of his best-known and finest ensemble music with his brother, the Woodstock Mountains Revue (which also included his big brother) and the WMR's pool of musicians such as Pat Alger (going on to form a partnership with him beginning with their From The Heart (Rounder, 1980). At one point he and his brother co-hosted the WAMC radio show Bring It On Home. The brothers' names were very much entwined.
During the second half of the 1960s he also took up electric guitar and co-founded a very loud and quite floral rock group, variously, it would appear, known as Bear or the Children of Paradise (though both brothers referred to it only under the latter name in my presence). Co-founded with his brother, the band's main claim to fame, once the 'din' had died down, was that the post-Happy Traum line-up delivered the soundtrack for Greetings. This 1968 film was directed by Brian De Palma – on his way to making Bruce Springsteens's Dancing In The Dark video (1989) and such films as Bonfire of the Vanities (1990) and Mission: Impossible (1996). Historically speaking though, it was the first film to reach US cinemas in which Robert De Niro appeared in any role beyond that of an extra.
Coevally, a number of musicians coalesced around Woodstock, about 160 km north of New York, amongst them Happy and Artie Traum, Bob Dylan, The Band, Van Morrison and members of Janis Joplin's Full Tilt Boogie Band (some of whom backed the Traums after her death). Happy moved to Woodstock – not to be confused with the festival of high renown – first in 1967 and Artie moved upstate soon afterwards. In Dick Weissman's Which Side Are You On? – An Inside History of the Folk Music Revival in America (2005) the author recalls Artie house-sitting "one of the two houses that Bob Dylan owned in Woodstock" and his role as gatekeeper – meaning keeping people at bay so Dylan could maintain, as my father used to say, a modicum of privacy. The Band's Rick Danko, Levon Helm and Garth Hudson would subsequently join a cadre of musicians that also included Bela Fleck and David Grisman when Artie made his Meetings With Remarkable Musicians (Narada, 1999). Its most poignant track in many ways was his duet Early Frost with his brother, though there is an added element there now since Artie's death.
Albert Grossman took the two brothers as their manager and they signed with Capitol Records. They recorded two albums for the label – the first being Happy & Artie Traum in 1969 and the second Double-Back in 1971. With Grossman managing them they were positioned to open for a number of major headlining acts – coincidentally also Grossman acts – and appeared at the 1969 Newport Folk Festival. In 1970 Happy Traum who had been helming Sing Out! magazine through one of its finest periods had to relinquish the editorship with the pressure of work and outside commitments. The two brothers' third album – this time for Rounder – called Hard Times In The Country (1975) was especially fine, with its exploration of Harry Smith's Anthology of American Folk Music and the Pinder Family's I Bid You Goodnight. It also included three Artie Traum compositions in No Depression Blues, Gambler's Song and Gold Hill and came with liner notes written by the Beat poet Allen Ginsberg. Ginsberg's 'appearance' was a returned favour of sorts. Like Dylan, Happy had done sessions for a Ginsberg album for the Beatles' Apple label deemed too uncommercial (Subtitles: risqué) for public consumption – and scatological to boot – though it was eventually released on the Ginsberg collection Holy Soul Jelly Roll (Rhino Word Beat, 1994).
During the early 1970s, Jane Traum prompted her husband Happy one time during an interview with me, the brothers had put on a series of '& Friends' concerts at the Woodstock Playhouse. This led to the formation of the Woodstock Mountains Revue, a loose collective including Pat Alger, Eric Andersen, Paul Butterfield, John Herald, Bill Keith, Maria Muldaur, John Sebastian and Paul Siebel. They made five albums but their finest hour came with the second, More Music From Mud Acres (Rounder, 1977). Artie Traum contributed two marvellous compositions Barbed Wire and Cold Front. (That same year his solo debut Life On Earth appeared on Rounder.) By the late 1970s, a touring band had coalesced. Two further WMR volumes were released in 1990 by the Japanese Village Green label entitled Live at the Bearsville Theater volumes one and two.
Artie had been moved by the music of John Coltrane, Miles Davis, Jim Hall and the Modern Jazz Quartet from early on. Jazz emerged as an important component in his music making. It led eventually to him recording a number of jazz-tinged albums. Letters From Joubee (Shanachie, 1994) contained ten compositions, all written or co-written by Traum, five of them co-credited to Scott Petito (also the album's producer). Moroccan Wind was an outstanding example of his and Petito's composing.
Later recordings include The Last Romantic (Narada, 2001), Acoustic Jazz Guitar (Roaring Stream Records, 2004) and Thief of Time (Roaring Stream, 2007). He also created a body of sterling audio/visual education materials, many for his brother's company Homespun Tapes, amongst them, ones on DADGAD tuning and guitar accompaniment.
He died at his Bearsville, NY home on 20 July 2008.