31. 12. 2018 | Rubriky: Articles,Best of Year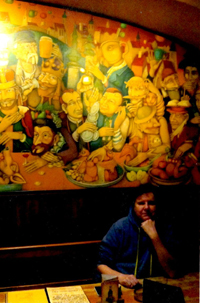 [by Ken Hunt, London] The year went very well indeed with masses of musical discoveries and reaffirmations. For decades I have written in U Zavěšenýho Kafe ('At the Hanging Coffee') in Prague 1. The image is of me when it was on Úvoz with its Jakub 'Kuba' Krejčí mural of Czechoslovak historical and literary figures behind me. (I went past and it had been renamed something to do with Rilke but when I looked through the window more recently the fate of Kuba's fantastical mural was unclear.) I used to write and read at a table in the adjoining room at the rear of the tavern. Still, times change. It moved around the corner and up the hill to Loretánská 13. In 2018 I got to sit and write at its new premises' tables inside and on the veranda on two separate visits to Prague giving me the chance to practise botching my rudimentary Czech.
At the Rudolstadt Festival I got to interview Pandit Shivkumar Sharma and his son Rahul Sharma as part of the festival. Although I first interviewed Shivji in 1981, interviewing him is always without fail a true thrill. Highlights I caught at the festival are below, but see the Sardinian singer Elena Ledda as part of the Bella Ciao presentation wafted me back to my first visit to Tanz&FolkFest Rudolstadt 1991. I went as a speaker and there I met a dashingly handsome fellow panelist by the name of Petr Dorůžka. Our friendship has endured. Like my love affair with Elena Ledda's voice continues.
In August during a visit to I visited Dussmann, a store I go to every time I work in Berlin. Another friend, the remarkable guitarist Steffen Basho-Junghans first alerted me to it. (I met Stefan at Tanz&FolkFest Rudolstadt 1991 as well.) Visiting Dussman before the Bright Phoebus Revisited concert at Haus der Kulturen der Welt wafted the simple, unalloyed, now barely remembered pleasure of browsing in a well-stocked record department. Support independent shops. Browsing and buying books at an old-fashioned book shop like The Open Book on King Street, Richmond Upon Thames remains a duty.
Back to music. Martin Simpson's gig at the Exchange and Martin Carthy's gig at TwickFolk – both in Twickenham – grounded me. The intimacy of small venues remains at the core of what I do and love and the sheer pleasure of music performed in small venues remains. David Gunawardana doing a floor spot before Martin Carthy and TwickFolk offering discount admission for under 25s showed ways in which the folk club scene can buck its ideas up. Ralph McTell may have been at the Queen Elizabeth Hall – the name gives the venue's size away – but he shrank the venue to the small venue, assisted by a dazzling opening duo, Smith & Brewer.
Every year the Rudolstadt Festival is, without fail, a fine opportunity to listen to first-class street music. For years Peter Uhlmann programmed this vital part of the festival extraordinarily well. The image is of a female busker on the concourse at London's Waterloo Station on the way to the launch of the Bert Jansch Foundation's 'For Bert Jansch: Around the World in 80 plays'. https://bertjanschfoundation.org/projects/around-the-world-in-80-plays/
In Memoriam Peter Uhlmann (1950-2018).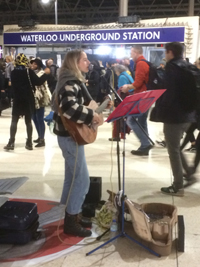 There were a number of other deaths that touched me greatly, either because of their influence and/or on account of knowing them. Chief among the musicians from the subcontinent were the surbahar virtuosa Annapurna Devi, the Assamese vocalist Dipali Borthakur, the guitarist Brij Bhushan Kabra, the sarod maestro Buddhadev Dasgupta and the surbahar and sitar virtuoso Imrat Khan. The deaths of Aretha Franklin, Roy Bailey and Bill Caddick affected me deeply.
Oh, and the commissions already in or in the pipeline for 2019 remind me why love writing.
Incidentally, 2018 was the first year I was inveigled into doing twitter. Mainly music, literature, the visual arts with splashes of politics and natural history. Follow if you wish, @KenHunt01
New releases aka Playlist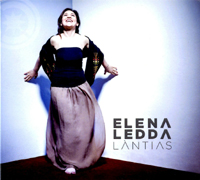 Image above: © Pierluigi Dessi/Confinivisivi, S'ardmusic
Laurie Anderson & Kronos Quartet / Landfall / Nonesuch
Blowzabella / Two Score / Blowzabella
Olivia Chaney / Shelter / Nonesuch
David Crosby / Here If You Listen / BMG
Marianne Faithfull / Negative Capability / Panta Rei/BMG (France)
Daoirí Farrell / A Lifetime of Happiness /Daoiri Recordings
The Furrow Collective / Fathoms / Hudson Records
Alam Khan / Immersion / AMMP
Elena Ledda / Làntias / S'ardmusic http://www.sardmusic.it
Kitty Macfarlane / Namer of Clouds / Navigator
Jackie Oates / The Joy of Living / ECC Records http://www.eccrecords.co.uk
Lisa O'Neill / Heard A Long Gone Song / River Lea/Rough Trade
Anne-Sophie Mutter / Hommage à Penderecki / Deutsche Grammophon
Pulsar Trio / Zoo of Songs / 13 Records
Romanovská Tichý Hrubý / Romanovská Tichý Hrubý / Hevhetia http://www.hevhetia.sk/Hevhetia
Trio Pulkkinen Räss Sadovska / Pastel / own label http://marianasadovska.com/voices
Smith & Brewer / Live 16/12/17 / own label
Sam Sweeney / The Unfinished Violin / Island
Simon Thacker's Svara-Kanti / Trikala /Stop The Moon Records http://www.simonthacker.com
Richard Thompson / 13 Rivers / Proper
Adrian Utley & Will Gregory / Arcadia (Music from the Motion Picture) / Invada
Norma Waterson & Eliza Carthy / Anchor / Topic
Historic releases, reissues and anthologies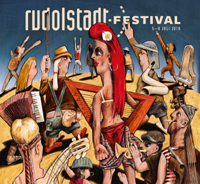 Image above: © Jürgen B. Wolff (an artist-musician I first met Tanz&FolkFest Rudolstadt 1991, too)
Peter Bellamy / The Maritime Suite / Fellside Recordings
Bob Dylan / More Blood, More Tracks: The Bootleg Series Vol. 14 [Deluxe Edition] / Sony
Jerry Garcia / Before The Dead / Round Records
The Oldham Tinkers / An Introduction to The Oldham Tinkers / Topic
Ram Narayan / L'art du sarangi/The Art of the Sarangi / Ocora
Martin Simpson / An Introduction to Martin Simpson / Topic
Various / Appleseed's 21st Anniversary: Roots and Branches / Appleseed Recordings
Various / David Attenborough – The World Music Collector – My Field Recordings From Across The Planet / Wrasse
Various / Die Leipziger Liederszene der 1980er Jahre / Lœ˜wenzahn/Rum Records
Various / Rudolstadt Festival 2018 / heideck
Various / Songs of Resistance 1942–2018 / Anti
Hedy West / From Granmaw and Me / Fledg'ling
Events of 2018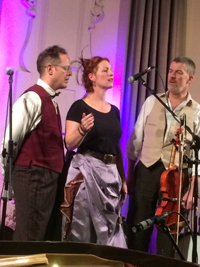 Image above: Bush Gothic L-R Dan Witton (double bass, vocals), Jenny T. Thomas (vocals, piano), Chris Lewis (drums, percussion, piano, vocals) © Ken Hunt/Swing 51 Archives
There was an unusually high number of exceptional concerts in 2018. These, as usual, come in chronological order. They stood out for the music and for planting seeds of thought.
Niladri Kumar: Seduced by the Sitar / Milton Court Concert Hall, London / 13 March 2018
Aruna Sairam, Soumik Datta et al: Back To The Blues / St John's Smith Square, London / 15 March 2018
Yorkston/Thorne/Khan & Talvin Singh Illuminating India / Science Museum, London / 23 March 2018
A Thousand Thoughts – A Live Documentary / Sam Green & Kronos Quartet / Barbican / 18 May 2018
Kronos Quartet & Trio Da Kali – Ladilikan / Barbican / 18 May 2018
Muzsikás with Hanga Kacsó and István Berecz / The Grand Hall, Ethno Port Poznań, Poznań / 8 June 2018
Mariana Sadovska / The Grand Hall, Ethno Port Poznań / 9 June 2018
Cüneyt Sepetçi & Orchestra Dolapdere / Castle Courtyard, Ethno Port Poznań / 9 June 2018
Gulaza / Castle Courtyard, Ethno Port Poznań / 9 June 2018
Sirventés / Castle Courtyard, Ethno Port Poznań / 10 June 2018
Shivkumar & Rahul Sharma / Burgterrasse Stadtkirche, Rudolstadt-Festival / 6 July 2018
Graham Nash / Konzertbühne (Heinepark), Rudolstadt-Festival / 8 July 2018
Ormuz / Tanzzelt (Heinepark), Rudolstadt-Festival / 8 July 2018
Bella Ciao / Heidecksburg Große Bühne, Rudolstadt-Festival / 9 July 2018
"Die Erde ist für dich und mich" / Heidecksburg Große Bühne, Rudolstadt-Festival / 9 July 2018
Bright Phoebus Revisited / Haus der Kulturen der Welt, Berlin / 12 August 2018
David Crosby & Friends / O2 Shepherd's Bush Empire, London / 16 September 2018
Martin Simpson / The Exchange, St Mary's University, Twickenham / 12 October 2018
Remembering John Mayer – The Godfather of Fusion Music / Watermans Arts, Brentford / 20 October 2018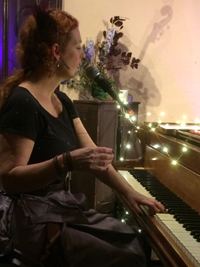 Image above: Bush Gothic's Jenny T. Thomas © Ken Hunt/Swing 51 Archives
Bush Gothic / Newington Green Chapel, London / 8 November 2018 http://www.bushgothic.com
Layla and Majnun – Mark Morris Dance Group and Silkroad Ensemble with Alim Qasimov & Fargana Qasimova / Sadler's Wells Theatre, London / 17 November 2018 http://www.pulseconnects.com/layla-and-majnun
Martin Carthy / TwickFolk, The Cabbage Patch / Twickenham / 25 November 2018 http://www.twickfolk.co.uk/
Nordic Raga / Kings Place, London International Arts Festival 2018 / 1 December 2018
Ralph McTell / Queen Elizabeth Hall, London / 7 December 2018
A dozen past music projects, released before 2018, either newly introduced journeys of exploration or ones which returned to inspire over the course of writing this year.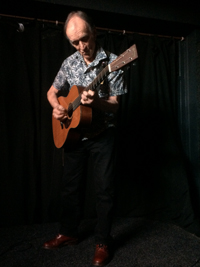 Image above: Martin Carthy © Ken Hunt/Swing 51 Archives
Martin Carthy / Out of the Cut / Topic, 1982
New Cicada Trio (Iva Bittová, Timothy Hill and David Rothenberg / Live in Beacon / Terra Nova Music, 2017
Leonard Cohen / Live in Dublin / Sony Music, 2011
The Esso Trinidad Steelband / Van Dyke Parks presents… / Banana, 2009 (expanded reissue)
Dick Gaughan / Handful of Earth / Topic, 1981
Petr Jiříkovský and Daniel Wiesner / Má Vlast / Matouš, 1995
Anaïs Mitchell / Hadestown / Righteous Babe, 2010
George Mraz & Zoe Rahman / Unison / Cube-Metier, 2013
Pacora Trio & Societas Incognitorum / Heroes / J&M Agency, 2014
Molly Tuttle / Rise / Compass, 2017
Various / Bella Ciao / Visage Music, 2015
Various / The Compact 2 Tone Story / Chrysalis / 1993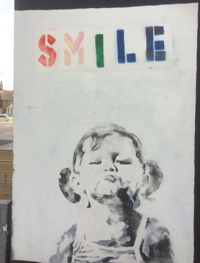 This is the 2018 edition of the local Banksy from June 2018. Unless otherwise stated, images are © Ken Hunt or Santosh Hunt/Swing 51 Archives.