24. 2. 2009 | Rubriky: Articles,Live reviews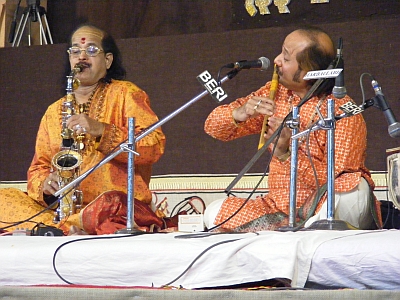 [by Ken Hunt, London] One of high-flyingest jugalbandis (duets) in Indian music it has ever been my utter pleasure to witness took place on 25 December 2008. It occurred on the opening day of the 133rd Harballabh Sangeet Sammelan in Jalandhar City in the northwest Indian state of Punjab. It was a North-South jugalbandi. The North was represented by the transverse bamboo flute or bansuri maestro Ronu Majumdar and the tabla virtuoso Ram Das Palsule. The South was represented by the alto saxophonist Kadri Gopalnath and Hari Kumar on the South's double-headed barrel drum, mridangam. The whole performance was a concatenation of revelations that told the rag's story marvellously. It also revealed the frankly heroic breath control techniques of the two wind players
The two principal musicians played Rag Hansadhwani, a rag (or more felicitously put a ragam) originally from the South Indian tradition. Like the better known Kirwani, Hansadhwani is a flagship Karnatic ragam that has found its niche – or nest – within the Hindustani repertoire. Its thematic content crosses the continents as well as the subcontinent, for it takes as its leitmotif the flight of the swan. The swan triggers art and symbol in every culture's folklore and folkways wherever they live. Hansadhwani is but one Indian example. If this is a swan it is a whooping swan.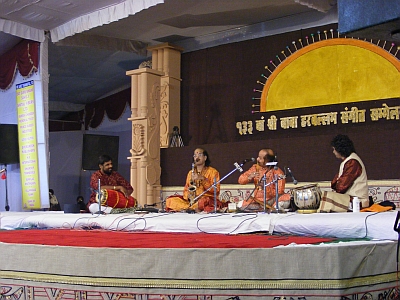 Evocation, recorded at the Saptak Festival, Ahmedabad in the Indian state of Gujarat in 2007, predates the Harballabh Sangeet Sammelan by a year. Even though in the final analysis the Harballabh performance eclipsed it, the Saptak Hansadhwani is truly a magnificent flight of the imagination. Accompanying them on this recording are Abhijit Banerjee on tabla, Patri Satish Kumar on mridangam and Rajshekar on moorsing, an instrument elevated from plain old Jew's harp to a solo percussionist's lead instrument in South Indian culture. If calling Jew's harp a percussion instrument sounds foolish, lend your ears to the moorsing tracks on Dr. L. Subramaniam's never-beaten introduction to Karnatic music, the peerless An Anthology of South Indian Classical Music (Ocora C591001/2/3/4, originally 1990).
What really sets Evocation aside from the pack is the hyper-alertness of the two duettists to each other. The call and response playing during the second track (see track information below) is frankly electrifying and so far beyond the norm that even if you have never heard a single Indian classical record in your life you will instinctively know that you are in the presence of something extraordinary. Imagine what it sounded like to hear John Coltrane and Miles Davis together way back. However hard you may wish to deny it – and I tried to wean myself off such hyperbole, ultimately without success – Evolution will shake the ground on which you stand. I denied the evidence of my own ears for fear of hyping this album. If scales can also fall William Tyndale-style from the ears, Evolution is the best example I can recall of musical truths revealed in a decade. A masterpiece.
Photographs from Harballabh Sangeet Sammelan: (c) 2009 Santosh Sidhu and Ken Hunt, Swing 51 Archives
Kadri Gopalnath and Ronu Majumdar Evolution (Sense World Music 101, 2008)
Tracks: Rag Hamsadhwani alap (18:14); jor and jhalla (6:34); Hansadhwani/Pilu gat in addha taal (25;09); percussion solo 17:16.