11. 2. 2018 | Rubriky: Articles,CD reviews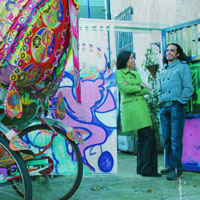 [by Ken Hunt, London] This is an adapted article, based on a joint interview with Zoe and Idris Rahman that we did yards away from the Royal Festival Hall on London's Southbank in 2008 for Jazzwise (a magazine I've written for since January 2001). The focus was the newly released Where Rivers Meet.
O, River also titled O nodi re opens Zoe and Idris Rahman's Where Rivers Meet. It starts with a water ripple of piano. A consolidating flourish with shake-rattle percussion begins to purl beneath it. A reed takes up the watery melody. Melodic consolidations follow and the piano playing takes on a percussive guise – more cimbalom-like than santoor-like though. Then the sluice gates open and the ensemble pitches headlong into the melody. O, River ebbs and flows like a tidal river. It is flowing water the way Smetana's Vlatava is flowing water.
It all fits. After all, river imagery is the fish and rice – or dhal (lentils) – of Bengali and Bangladeshi poetry. The river provides the staples of musical, lyrical and philosophical images. Watery journeys too feed the region's music. For example, lives separated by currents and death reach an apogee of river imagery in the R.D. Burman composition Nadeer Paare Uthchhe Dhonwa ('On the Other Side of the River, Smoke is Rising') – a composition revisited by Asha Bhosle on the Grammy-nominated Kronos Quartet project You've Stolen My Heart. Yet the brother-and-sister team's style touchstone for Where Rivers Meet isn't disguised Baul messages to the Cosmos or the steady rowing rhythms of bhatiali – as Bengal's boatmen  songs are known. Their meeting of rivers isn't muddied jazz eddies pouring into some make-believe Sea of Bengal or into a Sargasso Sea of mishmash world music. That is because, even though many of the cultural touchstones on the album are Bengali, the dominant style touchstone is jazz. What Where Rivers Meet is, is a confluence of the Ganga – Ganges in anna-and-farthing old money – and the Thames.
Bengali is one of the world's greatest literary languages. It is concentrated in present-day Bengal and Bangladesh yet also flows outwards into diaspora forms. Its literary giant of twentieth-century history was and remains Rabindranath Tagore who won the Nobel Prize for Literature in 1913. It is also a region of enormous musical diversity and vigour. These include the region's tribal and folk music traditions and the music of the Bauls – a tradition drenched in philosophical twists, obfuscation and triple meanings. (Baul lyricism irrigated the poetry of the likes of Tagore, The Band, Bob Dylan and Allen Ginsburg.) In the world of Hindustani art music certain Bengali names are bywords for musical excellence internationally. Take Ali Akbar Khan, Ravi Shankar, Nikhil Banerjee and Pannalal Ghosh for starters. Bengalis also rank high in annals of worldwide popular music. In terms of cultural penetration, what is now termed Bollywood music exceeds everything apart from rap, having long outstripped reggae or rock. Indian film also has long had a portmanteau job description, that of 'music director', encompassing composer-arranger, musician-session organiser – with illustrious names such as R.D. Burman, S.D. Burman and Hemanta Kumar Mukhopadhyay (accounting for him becoming plain Hemant Kumar in Bombay). No wonder then that Where Rivers Meet taps into both the lyricism and inspiration of both Hemant Kumar and Tagore.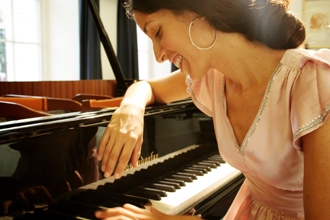 Bengali music cross-fertilizes in many ways. Zoe – the pianist and, yes, there's no umlaut (or diaeresis, meaning the two dots over a character) over the e – and Idris – the reedman – are of mixed Bengali-English bloodlines. Their Bengal-born father Mizan Ur Rahman (Zoe: "People in England, 'obviously' because it's too difficult, called him Zan.") had studied at universities in Calcutta, Dhaka and Karachi before being offered a post-graduate scholarship in English literature at Sydney University, arriving in Australia in 1962. Their Yorkshire-born mother Rita had emigrated to New Zealand as a girl in 1951 and had moved to Sydney in 1959. She was studying medicine when they met in March 1962 and they married there in 1965 and settled that year in England. In 1970 the couple and their Lancashire-born daughter Sophie put down roots in Chichester in West Sussex – which was where Zoe and Idris were born that decade.
At home they spoke English. "Otherwise we might know a bit more!" Zoe chimes in merrily. "Our Bengali is very, very basic," confirms her brother. She continues, "We just spoke English at home. We're very English really. He would say the odd word to us – if he wanted us to eat or leave the house quickly." Both explode into laughter. "That's when Bengali would come out." It is a fitting side-tale to Where Rivers Meet that William Radice provides the translations to four of the five tracks with lyrics. He is the author of Teach Yourself Bengali – that Teach Yourself… series of self-improvement self-tutors came in mlok skvrnitý or fire salamander yellow-and-black dust jackets that would be familiar to a cpuple of generations in Britain. The Rahman siblings' tales about how many chapters they have cracked varies too frequently to need another update to feed the fire. The fifth translation is by their father who appears on two of Where Rivers Meet's tracks as Mizan Rahman.
In mixed-race or mixed-nationality homes the music on the radiogram and its successors tends to ping-pong between the various cultures. I ask if their father used to listen to his music with their mother. "No," replies Idris before they both collapse into laughter at the mere thought. Composure regained, he replies, "Maybe she wasn't a fan, I don't know." "No, we do," says his sister. "She didn't like it." The party line disintegrates immediately into guffaws. Shaming the devil, he says, "She didn't like it. He used to sing while he was walking around the house, doing the washing-up and stuff – and she didn't like that much either. That's where we know some of these songs from actually. He used to sing bits of these songs while he was chopping onions and whatever. Doing this album was the first time we've actually heard these songs properly. But we knew them quite well from him singing them – in fact we knew them 'wrong' from him singing them. He sings them all wrong and out of time." This causes two siblings to lose it completely. "It was really interesting to hear the proper versions," he eventually recovers.
The first promise of what might come in a Where Rivers Meet sense was Muchhe Jaoa Dinguli, a discovery from fossicking through their father's music collection. Its title means, their father comes to the rescue, 'Days That Have Passed' or 'Days Gone By' from the 1958 film Lukochuri ('Hide-and-Seek'). "On my last album Melting Pot," says Zoe, "there's a track, which is my dad's all-time favourite track, called Muchhe Jaoa Dinguli. That was the first time we'd done a Bengali song. I transferred a lot of old tapes to CD while [our father] was in hospital. He wanted something to listen to. On that cassette there were some other Hemant Kumar songs. They are such great tunes that you just want to play them."
The Melting Pot (2005) version of the composition was her first overtly Bengali foray and, importantly, it also includes her brother Idris playing clarinet. Muchhe Jaoa Dinguli entered the Zoe Rahman Trio's repertoire – the trio being Oli Hayhurst on double-bass and Gene Calderazzo on drums, both of whom play on Where Rivers Meet – and it also appears on their Live (2007) with Idris again guesting. (Live is a gig-sale album with deep currents that also draw on inspirations such as Joanne Brackeen, Dollar Brand/Abdullah Ibrahim and Phineas Newborn.) But that Muchhe Jaoa Dinguli was the latch-lifter.
"Where Rivers Meet started off with our dad's cassettes or whatever," clarifies Idris. "Not really a record collection. Just a few tapes. Basically the same tapes he's been listening to for around 50 years! He's still got them. Some old classics that he's listened to since he was probably at school! Then it broadened out a little with experiences we had since starting the project and meeting people. The tracks with [vocalist] Arnob – which are Betrayed ['Amar har kala korlam re'] and Stream of Joy ['Anondo dhara'] – he taught those to us when we were in Bangladesh in 2006." "We went over specially to record," explains Zoe, "because we knew we were going to make this album. We went back the year after, the March of 2007, on a British Council trip."
"Some of the other ones," adds Zoe, "were taught to us by our cousins on our first trip to Bangladesh in '86. One was Abar elo je sondhya ['We'll Surely Meet Again']. We were taught to sing its little verse and had to perform it! At a party. My mum got a bit fed up because we were going round to all the relatives – and there were, like, 300 relatives – so we'd have a big party, the place would fill and we got up, got a harmonium and sang that song. They knew we couldn't speak Bengali and that's why we chose Abar elo je sondhya'."
One of the joys of the material, says Idris, is the tunefulness of the source material. "The melodies are pretty amazing. They're long and have interesting structures. We tried out playing some of them in our own sort of way and they worked very well. It was basically playing the tunes. We haven't done a lot to them. We tried not to modify them too much from what they are in the original song form. They're quite strange because of the lyrical content. The number of bars is quite odd sometimes. The vibe of the music is really beautiful. It's very simple, melodically simple, but."
He leaves a pregnant pause that his big sister exploits. "The violinist, Samy Bishai, did a gig with us recently and he found the melodies quite hard to learn. They don't go where you expect them to go. The phrase length has odd measures because of the lyrics. And also rhythmically. Idris spoke about our Dad singing it in the kitchen and it being rhythmically wrong. It's because the emphasis is in a different place. It sounds like it's in a different place and actually is! When we heard Dad singing it you'd imagine the first beat of the bar to be in a certain place but when you heard the original and figured it out it was in a completely different place. I like those structures. A lot of the tunes are in a kind of 6/8 feel, but you'd hear the first beat of the bar actually where beat 2 is. The one that gets everyone is Tumi ele onek. Track 5."
Asked about adapting the cadences of Bengali speech and song to the piano, Idris, the true sibling, answers, "There are quartertones and things that aren't possible on piano. There are a lot of inflexions in-between the syllables. You can do it on the clarinet to a certain extent." "I wish you could on the piano," says his sister in classic sibling word-in-edgeways style. "But that's partly why it is an album of piano and clarinet. The melody is the most important thing on this particular album. And staying true to the original sounds. You can only really achieve that on clarinet. You can't get that subtlety on the piano. There is piano on the originals of a lot of these tracks. So, interestingly when we played it with [tabla player and percussionist] Kuljit Bhamra when we went round to his place, he immediately said that, for him, piano and clarinet is a certain sound that he recognises in that old film music. They did have piano and clarinet."
The thing that has to be stressed is that while the source material is profoundly Bengali, Where Rivers Meet is profoundly jazz in orientation. And the concluding Tagore composition Do You Wish To Forget ('Purano sei') – with its feints at 'Auld Lang Syne' – is just a perfect bridge between cultures. One of the most inspiring and inspirational personal turn-ons of 2008 has been discovering the Rahman Siblings, whether Idris Rahman playing with the clarinettist Arun Ghosh or exploring Zoe Rahman's back-catalogue. Not everybody gets to board the train at the first station. Zoe Rahman's music and musicianship eluded me before Where Rivers Meet and now I cannot imagine my soundscape without her pianistic insights on and into life. Save future blushes and get aboard the train sooner rather than later. There are worlds I know I have yet to discover in Where Rivers Meet. There is no higher praise.
With special thanks to Mizan Ur Rahman. And the kismet of bumping into Hannah Vlček of the RVW Trust at the official unveiling of the Vaughan Williams Memorial Library and the ripples that meeting led to. Such was the demand after I reviewed Live in Jazzwise that Zoe Rahman Trio (Live) received a pukka release in 2009.
http://www.zoerahman.com/
http://www.jazzwisemagazine.com/